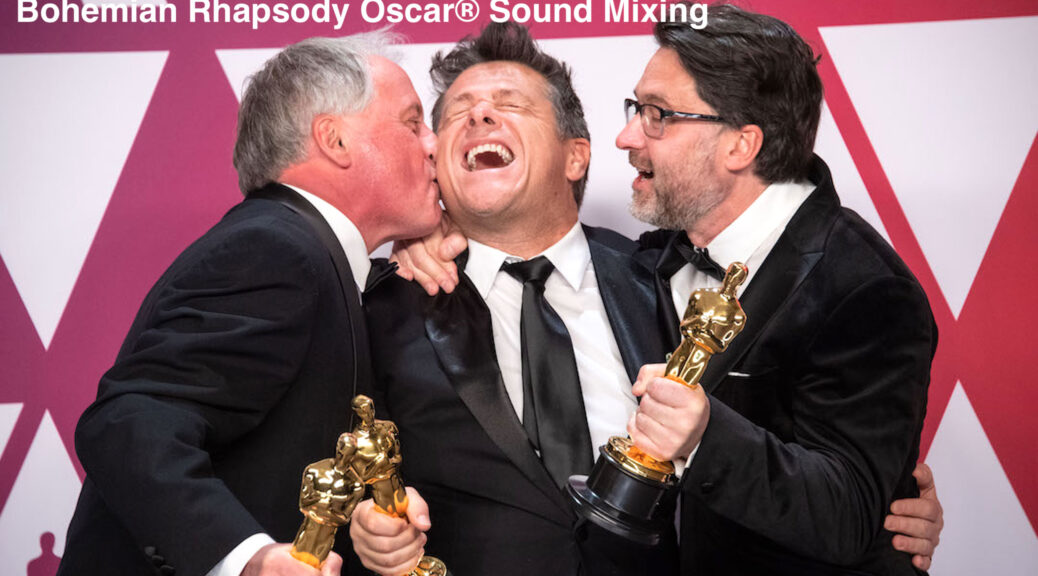 Bohemian Rhapsody Oscar® Sound Mixing
Bohemian Rhapsody Oscar® Sound Mixing
Paul Massy, John Casali, and Tim Cavagin bring an Oscar® sound mixing winning performance. This film is an honor to Queen's Freddy Mercury.
Tim Cavagin, Paul Massey, and John Casali

Paul Massey

Tim Cavagin, Paul Massey, and John Casali
Sound Mixing
Paul Massey
Paul Massey work includes Bohemian Rhapsody (2018), The Greatest Showman (2017) and Deadpool (2016). He took the time to say, "Thank you so much for your music and for your collaboration and your support. This is a project of a lifetime. We had great resources, we had great collaboration from all of the Queen production team and our producers, and it was a wonderful project. And actually, I think we all wished it hadn't finished. " 
John Casali

John Casali work includes Bohemian Rhapsody (2018), Into the Woods (2014), and Tinker Tailor Soldier Spy. He says,  "All of my team, and for this, really, for Chris Murphy, my boom operator, that's put up with me for 14 years. Thanks, mate. When we shot those sequences making Bohemian Rhapsody, all the things that we shot came from Brian May."
Tim Cavagin
Tim Cavagin work includes Bohemian Rhapsody (2018), Baby Driver (2017),  and The Others (2001). He thanks, "The team Twickenham, everyone else who worked on the sound of this incredible movie."
Film Synopsis
This film's story is the legendary rock band Queen and lead singer Freddie Mercury, leading up to their famous performance at Live Aid (1985). (IMDb)
Film Facts
Ben Whishaw was linked in the media to playing Freddie Mercury before casting Remi Malek.
Queen engineers gave the sound team full access to their archives of music, all their live material and studio material.
@4ChionLifestyle
Follow us for all thing fashion, celebrity, and beauty.
Photo credit The Academy of Motion Picture Arts and Sciences.